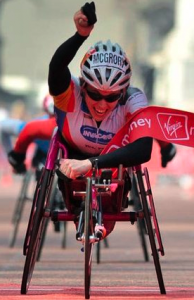 When Amanda McGrory was 5 years old she was diagnosed with a rare disease called transverse myelitis which left her paralyzed from the waist down. Amanda and her family were devastated by the disabilities Amanda suffered as a result of her disease and for a while it seemed as though her life was absolutely destroyed.
But at ten, after an extensive rehabilitation programme, Amanda, a Philadelphia native, joined a sports program for children with disabilities and thus her love of wheelchair racing was born. From here on, Amanda's inspirational story becomes one of transforming all her disabilities – physical, psychological and emotional – into abilities that could enhance her life.
Most of us are lucky enough not to suffer from debilitating physical disability but we all share Amanda's experience in some way. Everybody understands how it feels to suffer, to fail, to lose, to be sad, depressed and discouraged. Amanda and her family faced all of these thing – and more – but if ever there was an example of the saying, When life gives you lemons, it's Amanda. She took her 'lemons' and turned them into world champion 'lemonade.'
Because she showed such promise, former USA wheelchair champion, Mike King, began to work with Amanda in 1998. Before long, Amanda was one of the top athletes in the country.  By 2004, when Amanda entered the Junior Games for the Disabled in Australia she won every track event over 100 meters.
In the fall of that year, she enrolled at the University of Illinois and under the direction of the coaching staff there, Amanda quickly became an international star. But Amanda's career as an athlete was really only just starting.
In May 2006, Amanda began racing in marathons. Her very first time out she finished 3rd, with a time of 2 hours and 2 minutes, and a month later, in Duluth, Minnesota she won her first marathon with a time of just 1 hour and 45 minutes.
Amanda continued to compete in short races as well and that year took gold in the 800m at the World Championship and came 2nd in the 400m.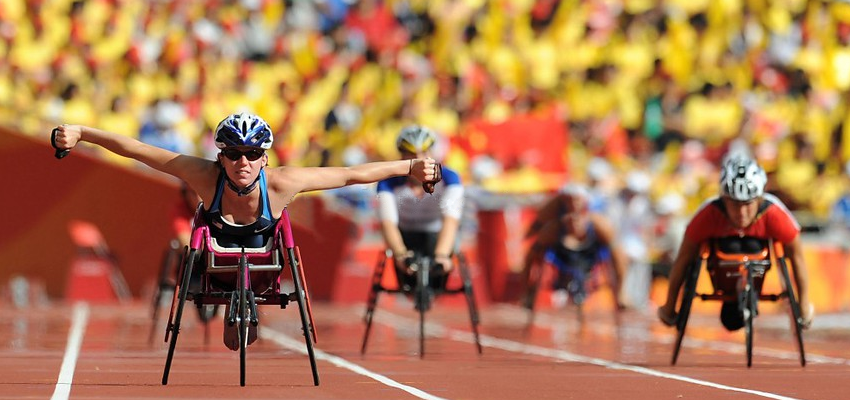 In the fall of 2006, she added to her achievements by coming second in the largest wheelchair marathon in the world, the Oita International Marathon in Japan.  Just a week later, she also won the New York City Marathon – widely recognized as the most competitive marathon for wheelchair racers.
2007 saw Amanda set records in Chicago, Denver and Duluth and finish second in the Boston Marathon and became the World Record Holder and a dominant athlete coming up to the 2008, Beijing Paralympics – where she won gold in the 5000m, silver in the marathon and bronze in both the 800m and 4x100m relay.  The rest of 2008 was spent competeing at marathons.
Somehow, in spite of her busy athletic career and training, Amanda also found time to study and graduated from the University of Illinois with a psychology degree.  Though she is no longer at college, Amanda continues to study – her latest interest is web-design – and to motivate and coach not only young wheelchair athletes but she also is involved in working with disabled veterans who are interested in the world of wheelchair athletics.
Amanda McGrory is an athlete – and by her own admission an Instagram addict – these are the things – the abilities – that define her, not her disabilities – watch her here –
More Information on Amanda: