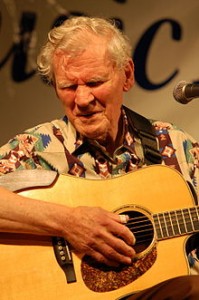 The legend that was Doc Watson died last Tuesday, May 29th, 2012.
Multi-Grammy winning Arthel 'Doc' Watson was born in Deep Gap, North Carolina in 1923. According to himself he got his nickname 'Doc' during a live radio broadcast when a fan shouted out that he should be called Doc – after Sherlock Holmes' famous side-kick, Doctor Watson.
Blind before his first birthday, Doc's parents taught him to be independent and sent him to school at the North Carolina school for the visually impaired. He got his first guitar when his father told him and his brother David that if they cleared all the small, dead trees at the edge of their field,they could sell the wood to the local tannery. The boys took their father up on his suggestion. With their earnings David bought himself a suit and Doc bought himself a $10 guitar.
The very first song he learned to play on his new guitar was, 'When Roses Bloom in Dixieland' – a Carter family favorite. Apart from the Carter family, Watson was also heavily influenced by Jimmy Rogers and within months of getting his guitar, Doc was busking with his other brother, Linny.
In 1953, Doc Watson joined the Jack Williams' country and western swing band on electric guitar. The band seldom had a fiddle player so Watson taught himself to play fiddle tunes on his Les Paul. While with Jack Williams, Watson played at barn dances and tuned pianos to make a living.
In 1960, Watson began playing acoustic guitar and banjo exclusively and before long Doc became a big success on the folk circuit. The Newport Folk Festival in 1963, at which he was a huge hit, set his career on an upward curve and Doc recorded his first album in 1964. In that year he also began performing with his eldest son, Merle.
Even after the folk revival began to dissipate, Doc and Merle were as popular as ever, teaming up with T. Michael Coleman on bass. The trio recorded fifteen albums between 1973 and 1985. Their popularity was constant until Merle was tragically killed in a tractor accident in 1985, aged just 46.
Doc Watson is best known as a flatpicking guitarist. He pioneered a fast and flashy bluegrass lead guitar style including fiddle tunes and crosspicking techniques which were adopted and extended by many others. He was also an accomplished banjo and harmonica player. Almost as famous as his guitar playing was Doc Watson's distinctive baritone. He had a store of mountain ballads that he'd collected over the years around his home in Deep Gap, North Carolina. As well as being an accomplished musician, Doc was known for his ready wit and laid back, humble nature.
Guitars
Doc played a Martin model D-18 guitar on his earliest recordings.
In 1968, Watson played his first Gallagher Guitar – the G-50 – referred to by Doc as "Old Hoss".  This guitar is on display at the Country Music Hall of Fame in Nashville, Tennessee.
In 1974, Gallagher created a customized G-50 line for Doc and named it after him.
In 1991, Gallagher customized a personal cutaway guitar for Watson that he played until his death.  This guitar was named 'Donald' by Watson after Donald Gallagher, owner of Gallagher Guitars.
Since 2003, Doc had also been playing a Dana Bourgeois dreadnought which Ricky Skaggs gave to him as a present for his 80th birthday.
Awards and Honors
1997 – Doc Watson received the National Medal of Arts from U.S. president Bill Clinton.
2000 – Doc Watson was inducted into the International Bluegrass Music Hall of Honor in Owensboro, Kentucky.
2010 – Berklee College of Music in Boston, Massachusetts, conferred on him an honorary doctor of music degree.
In 2010, Blooming Twig Books published "Blind But Now I See" a biography of Doc Watson written by Dr. Kent Gustavson.
Doc Watson died as a result of complications after surgery at a hospital in WInston-Salem in North Carolina.  He was 89 years old.
http://bluegrassireland.blogspot.ie/2012/05/doc-watson-remembered-on-national.html
http://www.slate.com/blogs/browbeat/2012/05/29/doc_watson_dead_at_89_the_great_guitarist_and_songwriter_was_much_more_than_a_link_to_the_past_.html
http://blog.oup.com/2012/05/in-memoriam-doc-watson/
http://bluegrassireland.blogspot.ie/2012/05/memories-of-doc-watson.html
http://hdmunn.wordpress.com/2012/06/03/arial-doc/
http://theviper.org/2012/06/02/doc-watson/
http://www.nytimes.com/2012/05/30/arts/music/doc-watson-folk-musician-dies-at-89.html?pagewanted=all
http://en.wikipedia.org/wiki/Doc_Watson